Cape May County Herald, Real Estate
Mon, 06/14/2010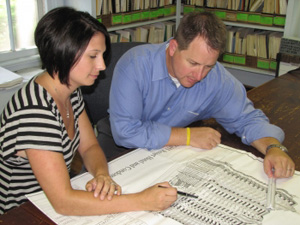 Kristin Wildman, left, director of Technical Services at The Lomax Consulting Group and Peter Lomax, president of The Lomax Consulting Group examine plans for urban redevelopment and parking in the Wildwoods
WILDWOOD — For many years the parking requirements under the N.J. Department of Environmental Protection (NJDEP) Coastal Area Facility Review Act (CAFRA) regulations have made coastal redevelopment of hotels a difficult venture. These standards required as many as four parking spaces for each hotel unit – an overburden strangling the economic vitality of hotel redevelopment.
The Lomax Consulting Group, a local consulting firm, teamed with municipalities, local hotel owners, and the construction trades to establish reasonable design standards that balance parking needs with parking demands based on hotel unit size. Wildwood Crest Mayor Carl Groon indicated that he had approached the NJDEP to provide a more realistic parking standard that would foster urban redevelopment in the Wildwoods and to encourage hotels to replace room stock lost to condominium conversions.
Concurrently, the City of Wildwood went through a master planning process that identified limited zones in the community that encouraged redevelopment with hotels that would support the Wildwoods Convention Center, a $68 million facility designed to host and expand local tourism.
Peter Lomax, president of The Lomax Consulting Group, noted that, "The rule overhaul is a watershed moment for advancing redevelopment in the coastal zone. Having worked for decades on key economic development projects, like the Wildwoods Convention Center, a reasonable parking requirement puts in place the keystone for economic vitality – year-round rooms at premier resorts along our local coastline."
Studies indicate that hotel units of less then 650 square feet require only one parking space. The CAFRA rule amendment adopted June 7, 2010, clarifies and confirms revised parking requirements. The old rule discouraged new hotel investment because of the excessive cost of constructing parking spaces.
Facilities such as the Convention Center will thrive, better able to book larger and shoulder season conventions with nearby hotels that can accommodate larger groups and conventioneers that prefer to stay together.
Lomax stated that, "Private investment is needed to build the number and quality of rooms to be compe******ive with similar facilities along the Atlantic Coast."
In recent years Wildwood has granted Preliminary Site Plan approval to nine hotels, but only two have successfully obtained CAFRA approvals to date. Kristin Wildman, a project manager for The Lomax Consulting Group stated, "Our firm has worked diligently with local stakeholders and developers to obtain CAFRA approvals for new hotels in the community."
The first hotel to receive CAFRA approval was the Starlight Resort Hotel, located at Poplar and Ocean avenues, owned by the Bill Morey Family. The second hotel to receive CAFRA approval was the Martinique Resort, located at Oak and Ocean avenues and owned by Martinique Resorts, LLC. Bill Morey, Jr. and William Callahan, spokesmen for their respective hotels, indicated that they are delighted with the State's decision.
Two additional hotels, Jerry Kretchman's Grandview Hotel and Wally Lerro and Paul Chiolo's Oceanic Hotel, were held in limbo for more then a year by the weighty parking standards, but now are positioned to move ahead and finalize their hotel plans.
The team coordinated by The Lomax Consulting Group and aided by the bipartisan support of Sen. Jeff Van Drew and Assemblyman Amodeo, approached the governor's Red Tape Review Panel for assistance when the rule amendment became bogged down in the NJDEP rule-making process.
Together with governor's office and NJDEP Commissioner, Van Drew worked to see this rule change through to reality. The N.J. Regional Council of Carpenters and local tourism leaders voiced their support for the more reasonable parking requirement, which is now adopted as part of the Coastal Zone Management Rules.
This design standard now allows for one parking space for hotel units containing less than 650 square feet within one half mile of the beach. Otherwise, this rule defers to standard municipal parking requirements consistent with their local zoning. The rule amendment in its full content can be viewed on the NJDEP website (www.state.nj.us/dep/rules/adoptions.html).
For more information, contact The Lomax Consulting Group by visiting the company's website at www.lomaxconsulting.com. For over 35 years, The Lomax Consulting Group has specialized in environmental and land use consulting, offering technical expertise and innovative solutions through sustainable practices.